WinS Multi-District Seminar by Rotary Clubs of Bidar.
8th Oct'17
WinS Multi-District Seminar was conducted for all Rotarians & Teachers of all Schools by All Rotary clubs of bidar.
650+ People were particiapted & made a Grand Success to this event. The Hall was full for this Seminar.
This Event has made a history after 12 years. As This Seminar was conducted by Rotary 3 Districts RI-3160,3150 & 3132.
Teachers of All Schools were also invited & they participated in this event. Rotary clubs of bidar presented a WinS Kit to every participant.
A demo was given by school students on Washing Methods before & after any hand activities.
Resource Person : 4 Resource People has given a Great Presentation seminar on Wash In School Project. PDG.Ramesh Agarwal, PDG.Dr.Mahesh Kotbagi, Rtn.Madhu Prasad, IPDG.K.Sreerama Murthy.

Guests for the Event
PRID Sushil Gupta ( TRF Trustee & Chair WinS ),
PDG.Ramesh Agarwal ( Member Secretary, Rotary India WinS ),
PDG.Dr.Mahesh Kotbagi ( Forum Leader, RID-3131 ),
Rtn.Madhu Prasad ( District Governor, RID-3160 ),
Rtn.J.Abraham, ( District Governor, RID-3150 ),
Rtn.Vyankatesh Channa, ( District Governor, RID-3132 ),
IPDG.K.Sreerama Murthy, ( WinS District Chairman ),
PDG.K.C.Senan ( Forum Chairman ),
Rtn.Baswaraj Dhannur, ( Asst.District Governor, Kalyan Zone-RID-3160 ),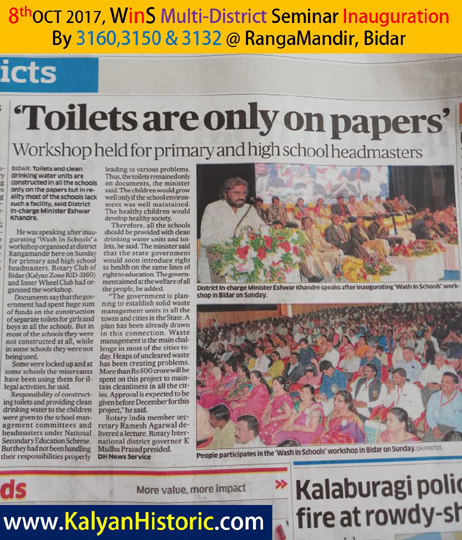 Participated Clubs
Rotary Club of Bidar Fort
Rotary Club of Bidar New Century
Rotary Club of Bhalki
Rotary Club of Humnabad
Rotary Club of Basavakalyan
Rotary Club of Bhalki
Rotary Club of Udgir
Satellite Club of Kalyan Historic, Bidar
Rotaract Club of YoungSTAR, Bidar ( www.RotaractYoungStar.com )
Bidar QUEENS Club,Bidar
Inner Wheel Club of Bidar
---
Venue : Rangamandir, Bidar
Date : 8th October 2017
Time : 8:00 Am to 2:00 Pm