Rotary Clubs of Bidar & Udaya Hospital organised Basic Life Support workshop.
3 Hrs Basic Life Support CPR Workshop was conducted in IMA hall, 29th April 2018 at 6:00-9:00 Pm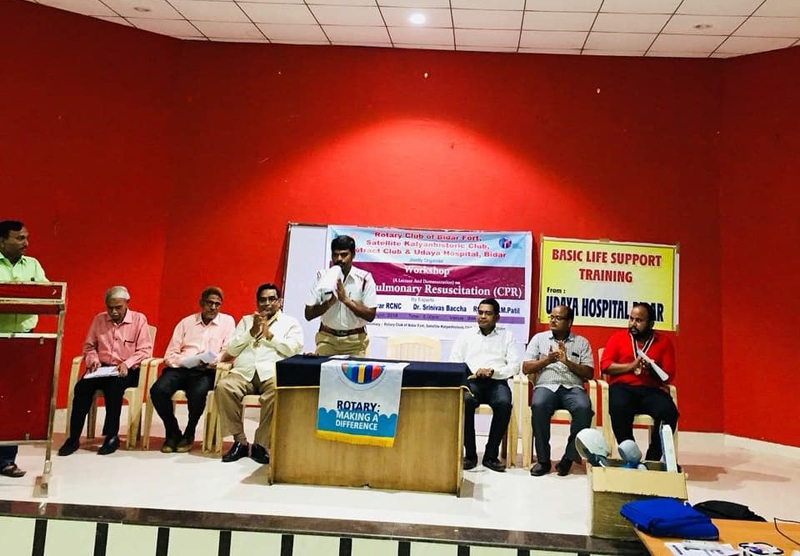 Inspector of Traffice Police Station & his team were also attended this workshop.
A Lecture and demonstration of Cardio Pulmonary Resusciatation (CPR).
by EXPERTS : Rtn.Dr.Nageshwar RCNC, Dr.Srinivas Baccha, Rtn.Dr.S.M.Patil.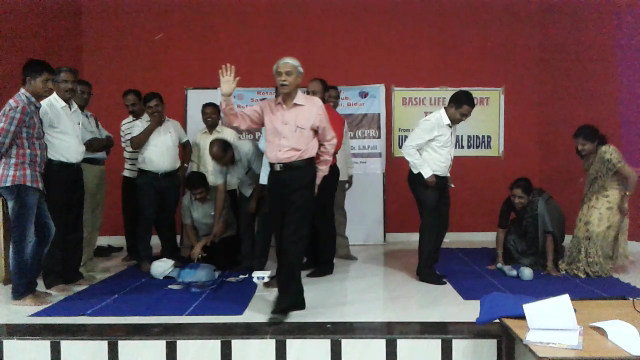 Program organised by Rotary Club of Bidar Fort, Satellite Club, Rotaract Club & Udaya Hospital in Bidar.
Appx.30-40 Rotarians were participated in workshop at IMA HALL ,bidar.
---
Chief Guests :
Traffic Police station Inspector
1. Rtn.Baswaraj Dhanur (Asst.Governor(E),Dist.3160,Kalyan Zone.)
2. Rtn.Prof.M.S.Chelva (Advisor , Bidar FORT.)
3. Rtn.Rajendra Agarwal (President , Bidar FORT.)
4. Rtn.Prof.S.B.Chitta (President , Satellite Club of Kalyan Historic.)
5. Rtn.Ravinder Reddy (President , Rotaract Club of YoungSTAR.)
6. Rtn.Dr.S.M.Patil 7. Rtn.Dr.Nageshwar RCNC 8. Rtn.Dr.Srinivas Baccha
All Secretaries & All Rotarians.